BRIDGE OVER MARNE CREEK by Jolene Steffen from Monta's Framing and Floral
BRIDGE OVER MARNE CREEK by Jolene Steffen
Unavailable
Sorry, this item is currently unavailable.
MEASUREMENTS: 38 1/2 INCH BY 31 INCH
BUSINESS HOURS:
MONDAY THRU FRIDAY 9:30am - 5:00PM
SATURDAY 10:00am - 4:00pm

No cash back. No carryover. No cash value. DOES NOT INCLUDE SALES TAX. SALES TAX MUST BE PAID TO RETAILER UPON RECEIPT OF MERCHANDISE.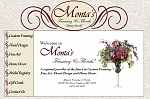 Click images to enlarge.

Monta's Framing and Floral
209 West 3rd Street
Yankton, SD 57078
Phone: (605) 668-0622
Website: http://www.montasfra...
Email Address: montastorm@h...
More Information