$20 gift certificate for food menu items from Raziel's
$20 gift certificate for food menu items
Sold Out
Sorry, this item is currently sold out.
Welcome to RAZIEL'S! Located in Historic Downtown Vermillion, it is your escape to something fresh and made just for YOU! From their soups to their pastas and everything in between, you're sure to find something delicious and exciting.
Raziel's boasts the largest beer and wine selection in Vermillion, with over 75 beers to choose from and a growing wine list; there is something for all tastes. Raziel's also offers a fine selection of coffees, espressos, and lattes. Free wi-fi is available, so bring your laptop and enjoy the smoke-free environment.
No cash value. No cash back. No carryover. DOES NOT INCLUDE GRATUITY. USE WITHIN 6 MONTHS OF DATE OF PURCHASE. FOR FOOD MENU ITEMS ONLY/NO MICROBREWS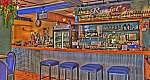 Click images to enlarge.







Raziel's
13 W Main Street
Vermillion, SD 57069
Phone: (605) 624-9696
Website: http://www.raziels.c...
More Information